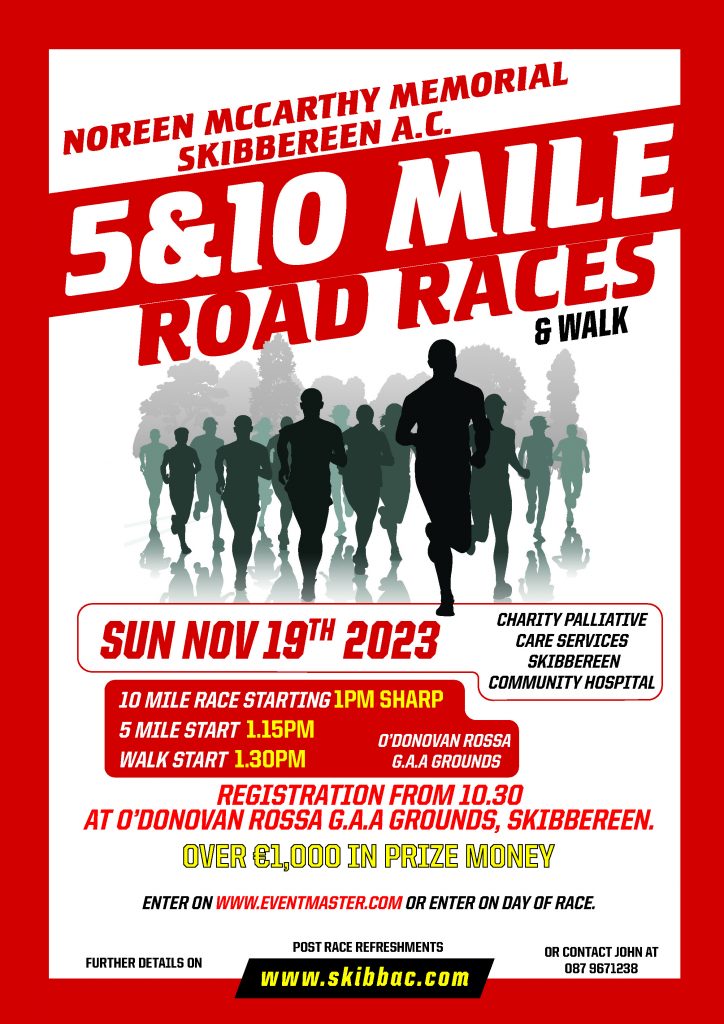 Annual Skibbereen A.C.  5 & 10 mile Road Races and Walk returns after 2 year absence on Sunday 19th November 2023 (Noreen Mc Carthy Memorial)
The Annual Skibbereen road race ( 5 & 10 mile races and walk) goes ahead this year on Sunday 19th November 2023.
Both races and walk start and finish at the entrance to the O Donovan Rossa GAA grounds. The 5 mile run and walk follow the same route, going up the March road to Thornhill Cross turning left and heading over to join the Abbey Road where another left turn has the runners heading back towards the finish line.
The ten mile race also heads up the March road turning left after 2.5 miles and another left at Clancy's cross has the runners heading towards Skeagh wood where another left brings them up a gradual climb through the wood at the 6 mile marker. The race then heads back towards the abbey and joins the 5 mile course with 1.5 miles to go, the last mile is all downhill to the finish at Rossa Park.
Online entries available at:
www.eventmaster.com as well as entries taken on day of races.
The entry fees are:
10 mile run €25 with a start time of 1pm
5 mile run € 20 with a start time of 1.15
Walk €10 with a start time of 1.30
with proceeds going to both Skibbereen Athletic Club and a very worthy charity than is the palliative care service at Skibbereen Community Hospital.
Registration on the morning of the race opens at 10.30 am at the O Donovan Rossa GAA Pavillion with the kind permission of the club, where the after race refreshments and prize giving also takes place.
The club is hoping for a strong turnout of both local runners and walkers as the event is suitable for all levels of fitness from the beginner to the elite athlete which we hope will travel from far and wide.
The club would like to thank most sincerely our main sponsors: Fields SuperValu: West Cork Distillors: Bantry Bay Medical Centre: Drinagh Co-op: South of Ireland Petroleum: without whose support this event would not be possible.